Understanding how Layers Work
Maps can have lots of data on them: roads, state boundaries, symbols for airports, topographical lines, and much more. All this data is organized into layers—each layer holds the markings for one group of information. When you make a map, you select just the layers with the information you want to appear on your map. You can also create your own layers to fully customize the map you create.
There are two basic kinds of layers:
Base Layers – This is the backdrop for all other layers. There can only be one base layer on a map.
Overlays – These layers are mostly transparent, but add additional data to the base layer. There can be many overlays in a single map.
The following example has a base layer with national and state boundaries with a white background. It also has two overlays: one with roads and one with airports.
Ordinary Map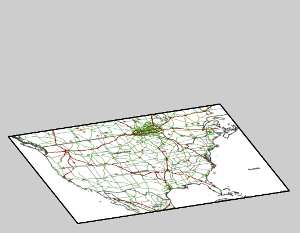 Map with Layers Expanded